client
support
Contact us with any questions concerns or comments.
Office:
(318) 631-4712Telephone:
(318) 636-6572FAX:
E-mail: info@mwbinc.com
Our clients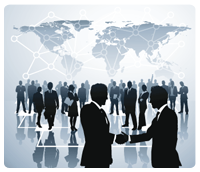 MBW boast a long list of both small and large clients, from Fortune 500 companies to local small businesses. We pride ourselves in the services we offer to both our clients and our community.
Below is list of some of our clients and what they have said:
testimonials
08/01/00 
Margaret Rice Interiors wrote:
"Dear Mr. Sample,
Recently I have reviewed the business transactions we have received from our various service companies. I am writing to advise that I have found  your firm to be outstanding in its field: timely, honest, efficient and  best of all, your people are informed and most considerate. Please accept my deep appreciation for all of your help over the years."
Sincerely, 
Margaret Rice 
Margaret Rice Interiors 
01/04/99 
Ameripol Synpol Corporation wrote:
Dear Wade:
RE: Warehouse Evaluation/Audit Dated November 19, 1998
I apologize for being so long in mailing you the official copy of subject audit. As usual, we find that all of your areas received excellent and good. We do appreciate the service that your organization provides to ASC."
Sincerely, 
R.T. Oxford - Manager 
Logistics Support Services 
12/23/98 
AlliedSignal wrote:
"Dear Wade:
This note is to thank you for the exceptional service you supplied our customer Delphi Interior Lighting over this past weekend.
Your willingness to take action is exactly the type of energy and commitment to customer excellence that we are continuously trying to achieve at AlliedSignal.
I just wanted to let you know how much I appreciate everything you did to avoid a plant shutdown at one of our key accounts."
Sincerely, 
Brian McKinley 
Senior Account Manager 
AlliedSignal, Engineering Plastics